Slow fall, then faster: what I may or may not have known when I first saw them is how recently they were whole, how until 1687 the temple stood solid, housed church then mosque then Ottoman gunpowder, took a Venetian cannonball in September that year, fell in, fell to pieces.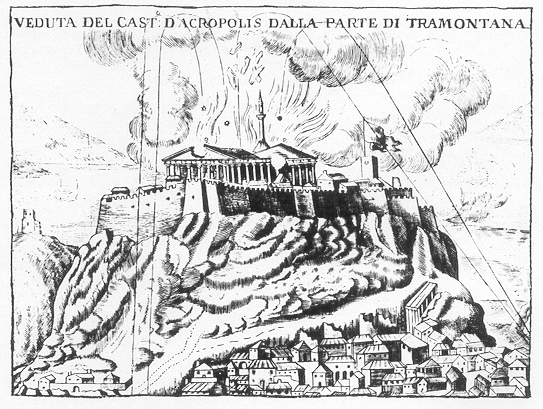 Sunday morning, between the queue for tickets and the strange unspoken dance three who know each other only in pieces will make through galleries: a coffee shop, a slice of tart, a fat teacup of filtered coffee. An abstraction: how much of the weekend spent watching, listening, taking in another's ways of talking with those beside whom I am utterly strange, barely known. An abstraction: to fall away from self, from anchor, to plummet through the thought of just how much farther the world stretches than the limits within which I have been living, to find even my familiars passing strange: she asks about sprung rhythm, he talks Hopkins, I grab the words to myself like a greedy thing: Glory be to God for dappled things-- / For skies of couple-color
And I am cowed by this brinded crackling morning, I am stretched thin and taut, I am hoarding: counter, original, spáre, strange, fickle, frecklèd, who knows how. Over my shoulder, out the door, a correlate I can only imagine after its sounds start: full bin of bottles lifted high, then higher, up only to be tipped, to pour out last night's clears and greens, and it keeps up an unthinkably long time: as I watch their mouths move, what I hear is the rolled roundness of glass finding its level anew.

Back in the museum I am on my own ground again, find myself finding faces, finding eyes that are left, that stare emptily to where other faces once were. And I am falling, seeing them again: I fall, gall myself, gash gold-vermilion before them, though no one can see or will know. Still the faces, still so many eyes, still so much silent missing, so much that I wonder how they sounded as they fell, as the ones who are gone sheared away, marble crashing to marble under stars, blown out beyond all recking beneath that impossible sun on that gorgeous unwelcoming hill.
So much is gone that what remains seems to emerge anew from the stone: field of folds yields a hand, smooth blank of skull grows an ear. Beauty is twinned with pain, presences made with absence: my mind is a-race with stopped stone: with swíft, slów; sweet, sóur; adázzle, dim: and yes I am praising though I know so little.

I go a long time without taking pictures before a tiny scene of unseen tending catches at me, makes me want to have it when I go. But once I am shooting, things are easier: all things are easier: I have kept so carefully to myself, careful not to crowd my companions, wanting anything but to say the banal of these half-gone faces. Once I am gathering, glorying, I need be nowhere near.

The piece I cannot return to take is the one that shakes me most: stern Athena quiet and cool in triumph, having won her city with a tree. Wise Athena, headless, limbless, single-breasted. Silent stone rent where a heart would be.